Yesterday I pulled up my driveway snow poles. I don't really ever find them useful but I like looking at them and imagining I'm living someplace that (still?) gets a lot of snow. My neighbors took theirs down weeks ago and it's true we had 68F/20C spring temperatures since. But two days ago, the ground was again white with snow. I was hoping that maybe there'd be another day of late season skiing, but no, not enough. I think that's it.
But what a great ski season it has been!
To understand how great of a year it was let's look back at all three years I've been in Buffalo.

This is showing the winter spread out horizontally. The three lines are the three winter ski seasons 2018-2019, 2019-2020, and this season, 2020-2021 (I'm using the last digit of the year (9,0,1).
First I must note that I only bought the skis in late January of 2019. After that I made it a religious commitment that if there was enough snow to ski, then I would ski. So while these records are days when I went skiing, they're really recording the snow conditions and not my laziness. My laziness was near zero (except for 2021-02-05 when I was feeling very sick and it rained — had the snow or my health been better, I'd have given it a try anyway). While I didn't keep careful track, it seems like I missed 3 or 4 days of possible skiing in 2018-2019 before I got the skis. Which seems consistent with the next two years. The following season, there were 3 freak early days in November.
What amazes me is that there was absolutely no skiing after 2019-02-04. Wow. And also nothing between 2019-11-13 and 2020-01-18. I had 9 outings the first season. Then 12 the next year. Although this year was missing nearly 30 days after 2020-12-27, 2021 was much better with 20 days skied in Buffalo.
My dad usually rents a house in Colorado during the ski season (thanks to the miracle of remote work). This year I had the time and freedom to go with him. On 2021-02-10, I skied in Buffalo in the morning and Erie, PA in the evening. The next day, I skied in Erie in the morning and, thanks to catching an unusual storm, skied in Cincinnati, OH in the evening. The next day was spent driving to Colorado.
And that's where the ski year went from better-than-normal to awesome!
Skiing the Boreas Pass trail was amazing. Simply gorgeous. It was about a light 5% grade going up with usually a slight tailwind on the way out. And how much did this fine skiing cost? $0. I loved skiing this trail!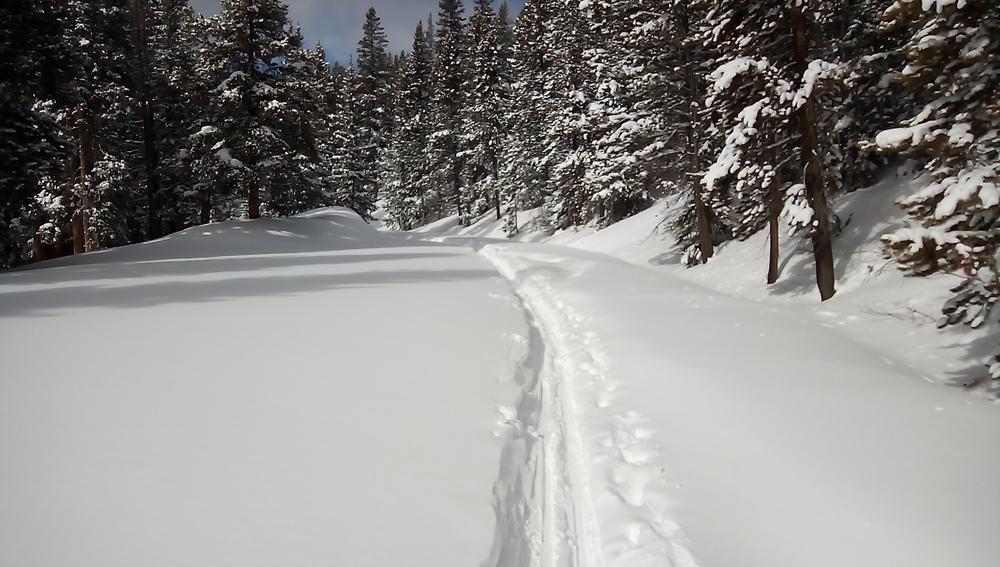 Most days on the Boreas Pass I went as far as this water tower that used to service the trains. That's why the grade of the trail is so perfect and mild — it used to be a rail corridor.
I usually would ski this trail to the water tower but the farthest I got was here which I think is in sight of the pass over on the right; I think it may also be the continental divide. You can see that in this exposed terrain, the wind (headwind on the return remember) was blasting. I was kind of nervous about such a long outing, easily the energy output of running a marathon. But as I got farther from the trailhead the snow was less visited and less packed down. I realized I could hit soft snow and fall through and get kind of stuck. I knew I didn't have the stamina to slog back through waist deep snow if that happened or if I broke a ski or something. Still, an epic day that I will remember fondly.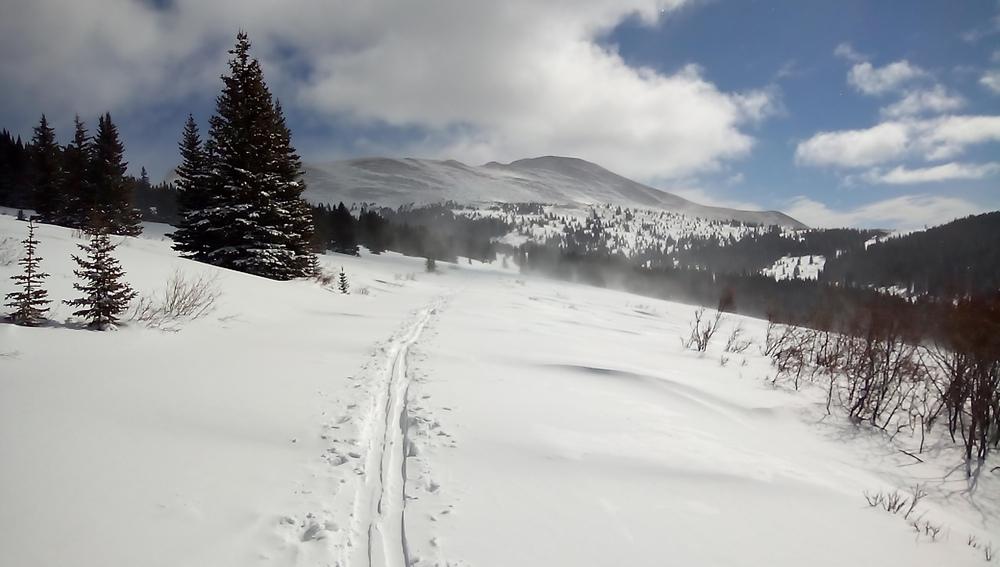 I knew they had bike trails in Breckenridge and there was tons of snow. Sure enough, the Blue River Trail just north of town not only was skiable, it was groomed. I don't know who did that or why, but it was awesome. And $0. The wind generally was cranking in from the north here. You'll see in other photos that I often wear a hat with a bill and/or shades. That's actually to keep the snow crystals from abrading my eyeballs. Like they were doing here! Still despite my uncharacteristic equipment oversight on this outing, I had a great time skiing that trail many times.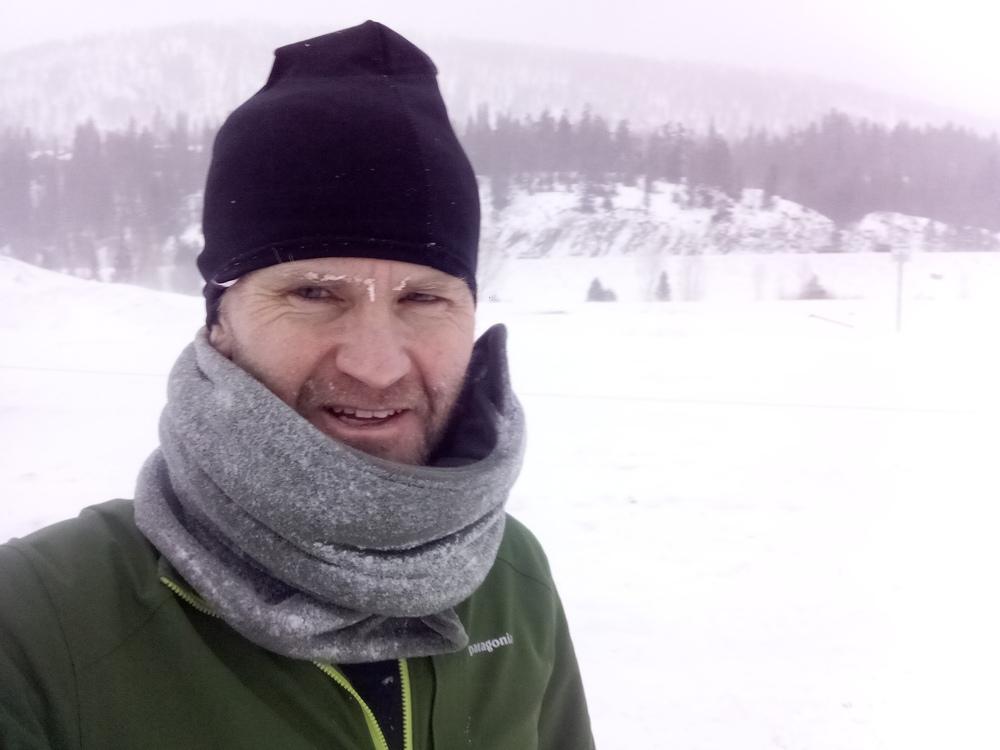 Here I'm at the farthest point (#46) on the trail system of the Breckenridge Nordic Center. It was quite an epic climb to get up here. I was feeling pretty awesome having accomplished it.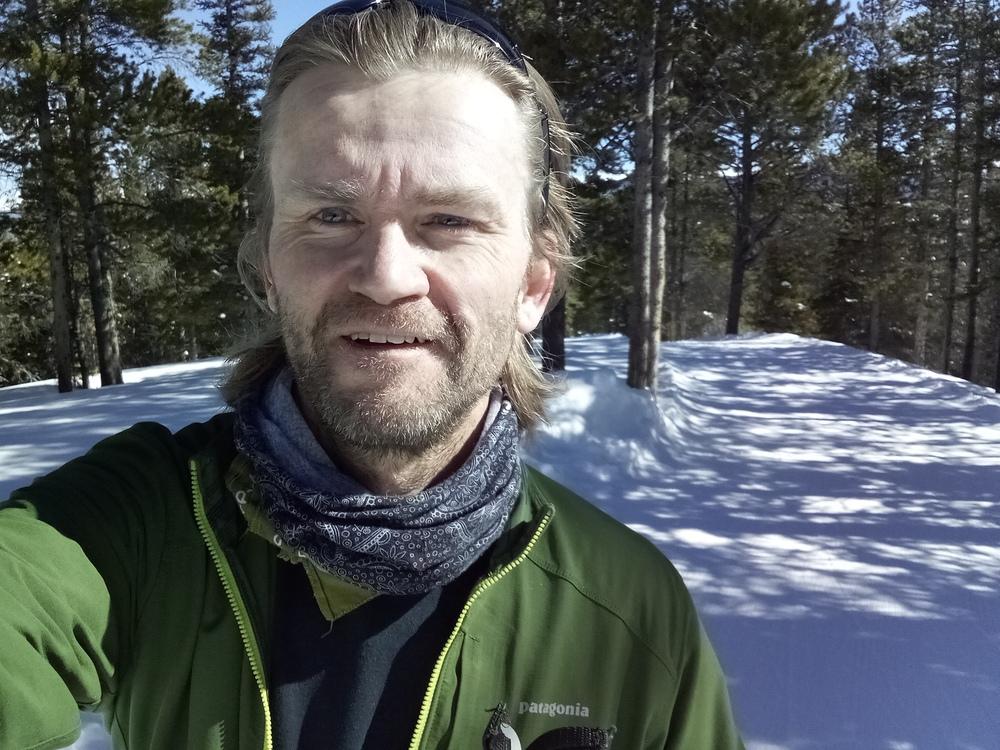 This was a "warming hut" out on one of the remote trails. It had a Scandinavian style hot sauna. I didn't fire it up — I was not one bit cold after all that climbing!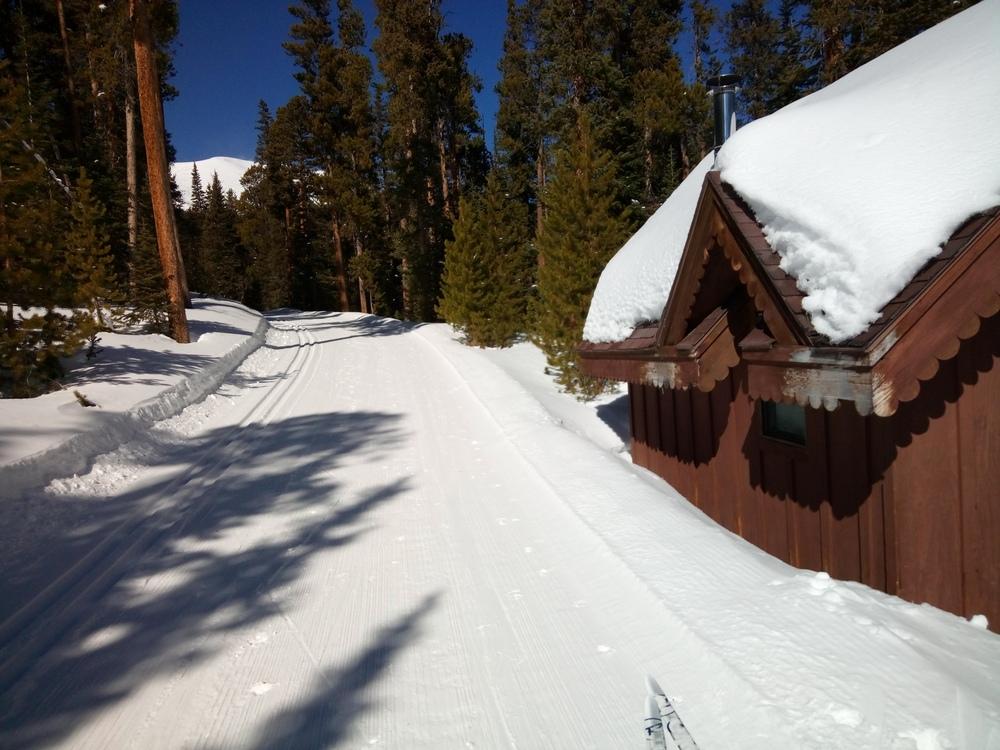 Here I am skiing on the Gold Run Nordic Center. It was fine and it is without a doubt the most sensible thing to do with a golf course. But it was a golf course — so, you know, the terrain wasn't really ideal for my style of athleticism. But there were some fun trails and it would be a good place for skate skiing.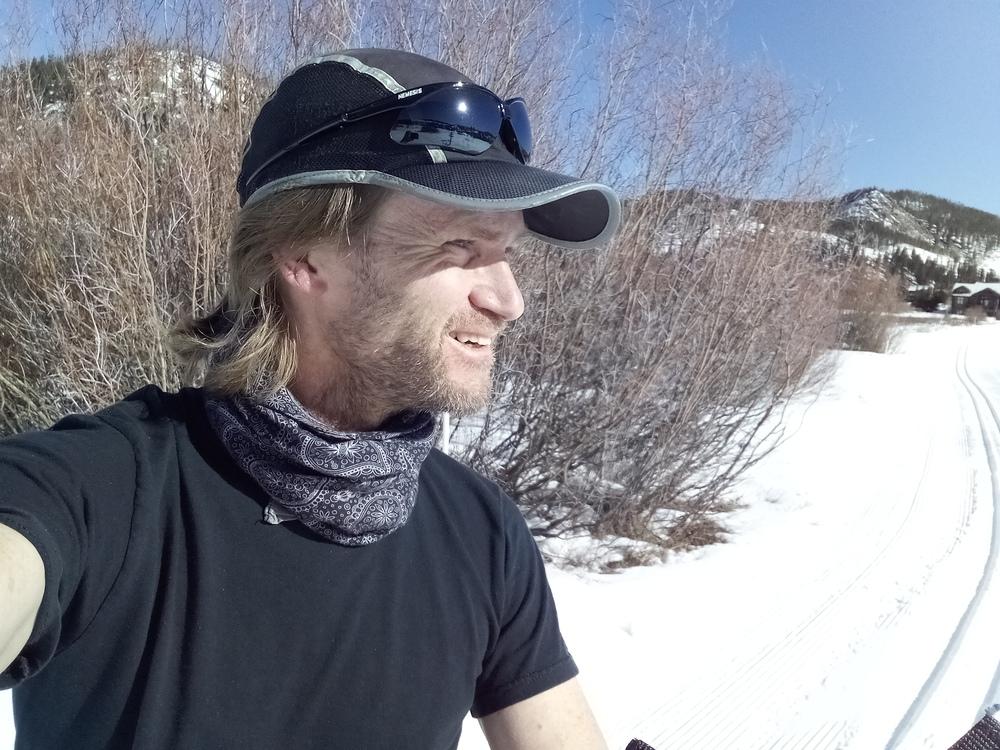 At Gold Run, it was warm enough to be tee shirt weather.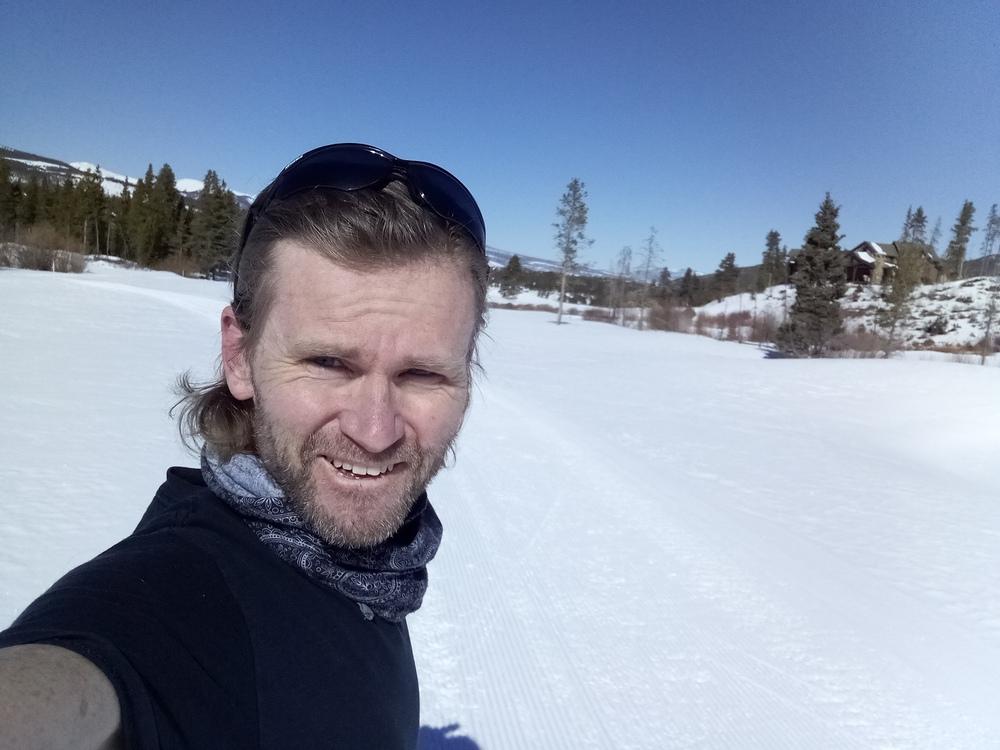 Oh ya, The Plague is still happening. Fortunately Nordic skiing doesn't require a mosh pit at the lift line. I think this was one of the days I was trying different rental skate skis and I would put the mask on to go inside. XC skiing itself with a mask is not really a possible thing, at least for me.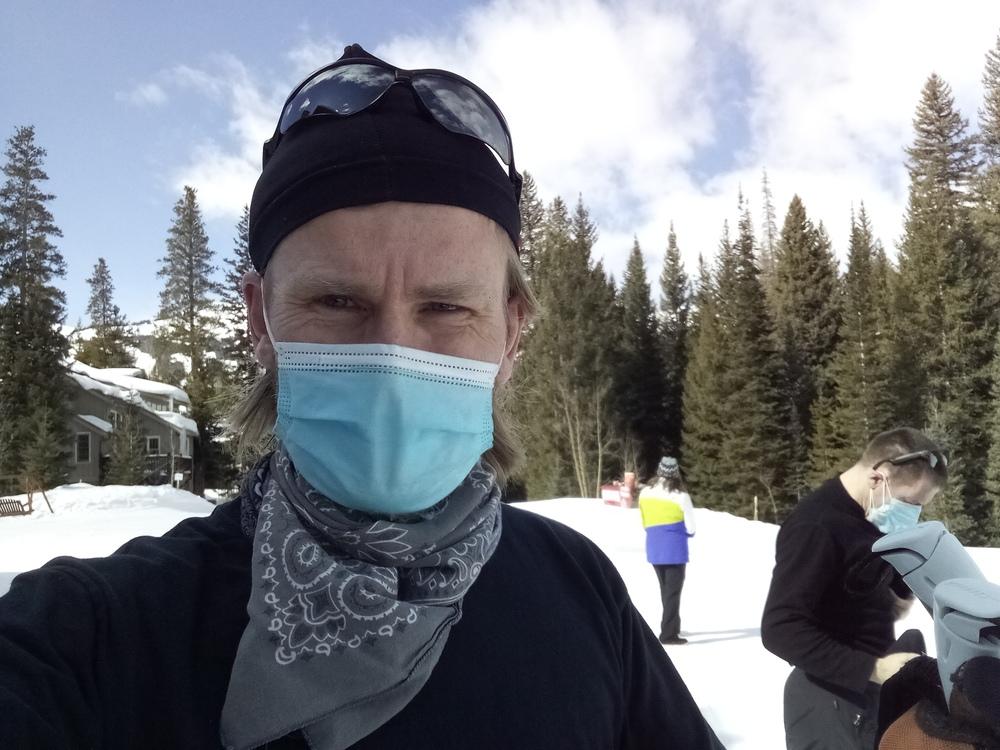 An igloo! I was so delighted to see — and enter! — this little structure since I'm fascinated by igloos. My dream is to figure out how I can have one where I live. I fear that will involve moving.
I rented skate skis and was able to try different lengths and models. I learned — my first time on skate skis on a groomed track — that, yes, I am a natural at this. ( Not terribly shocking really. ) I also learned that these 192cm ("192/N251") Fischer CRS Skate skis were awesome! And I learned that this sport (skate skiing) really does require a nicely groomed track.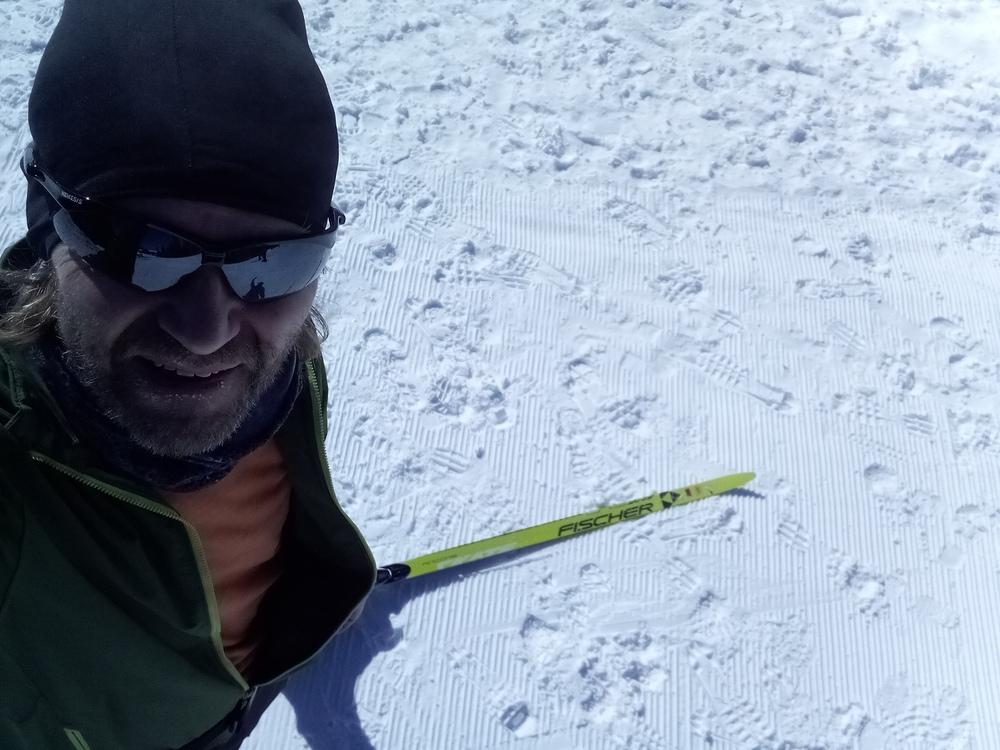 I could see this bridge from the road down there and wanted to ski on it. And here I am. But wow, there was a hell of a climb (or crazy descent if you go the other way). I just can't see this trail getting tons of use despite having a giant bridge and an amazing view of the town. I didn't see anyone else on this section.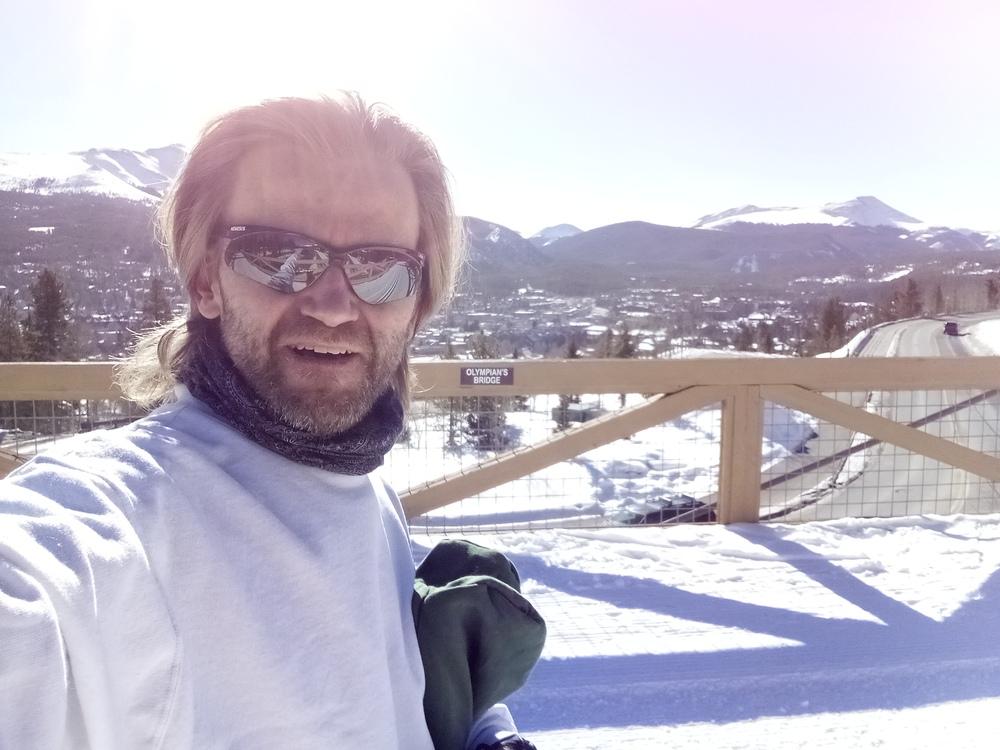 The snow in Colorado was immaculate. There were some warm mushy days but the nights snapped everything back into a good base. And there were tons of days with tons of live action snow. To illustrate how great the snow was, this photo shows the one place at BNC (yes, I covered all the trails) where the snow was not perfect. It's totally passable and in Buffalo, I'd call it "just fine". It is a sign though that the season doesn't last forever, even here.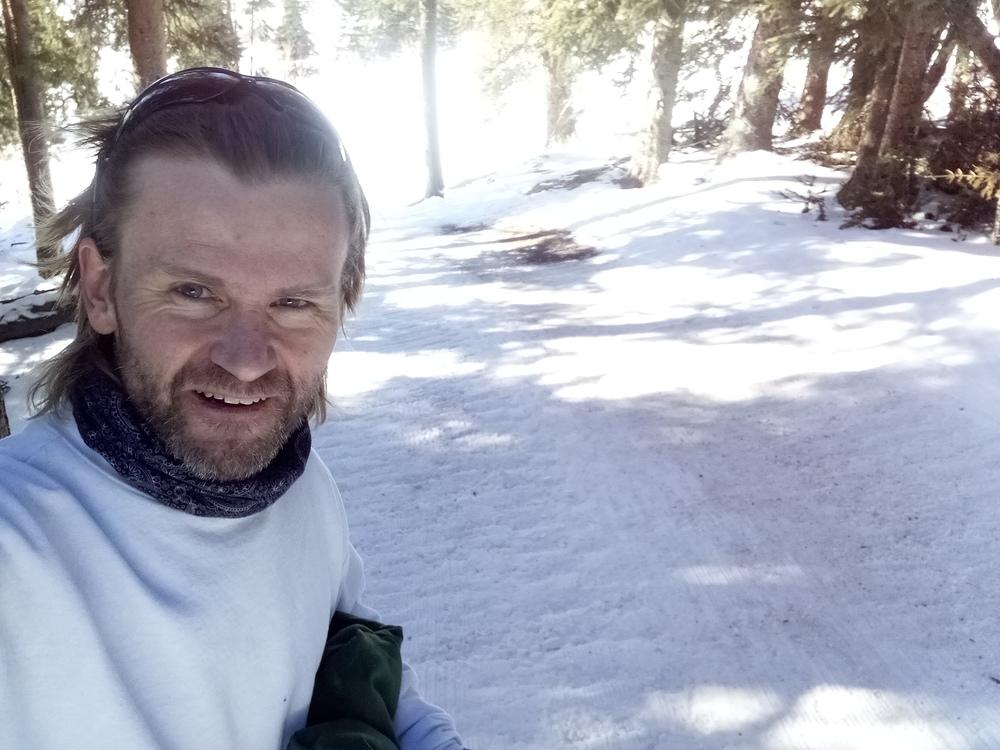 Here's another hut out on the remote trails. This one is more of a normal cabin. Hell, I could live there!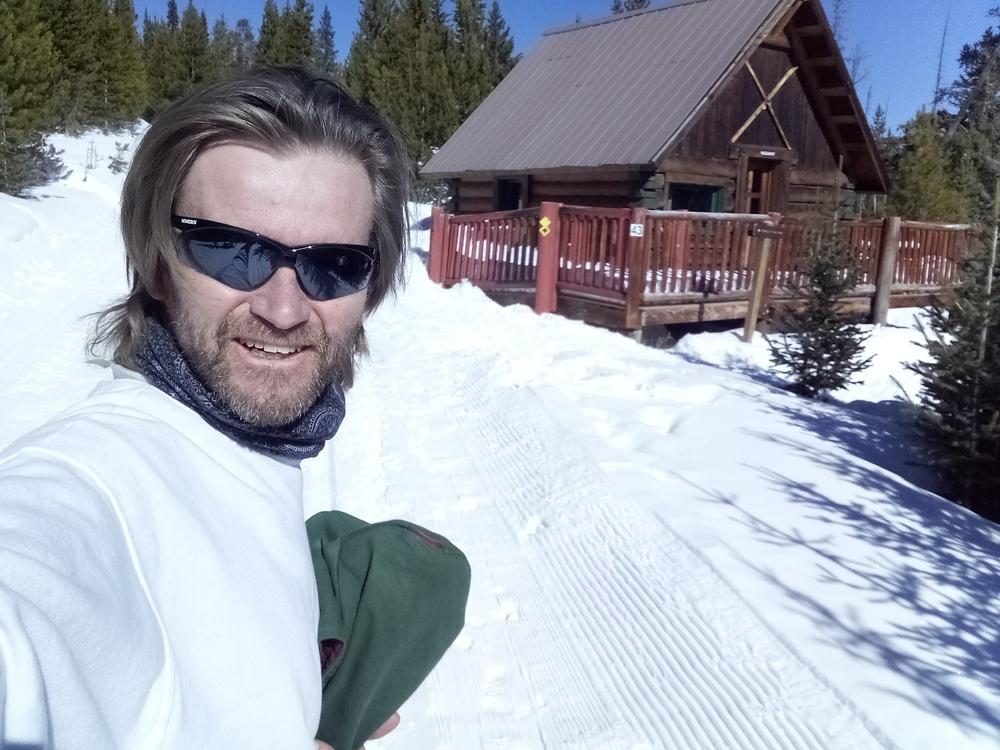 You may notice that in a lot of photos I'm not wearing gloves. It really has to be down below 15F before I'll wear some very light mechanics' gloves. The secret are these hand covers which I originally designed for bike handlebars. I made this set as a first attempt and my more serious subsequent set are on my bike now. But these work great for skiing! I'm probably going to do a full redesign of this system to handle the complicated wrist cages and other technical details. But I love these things. This is also on the Boreas Pass trail.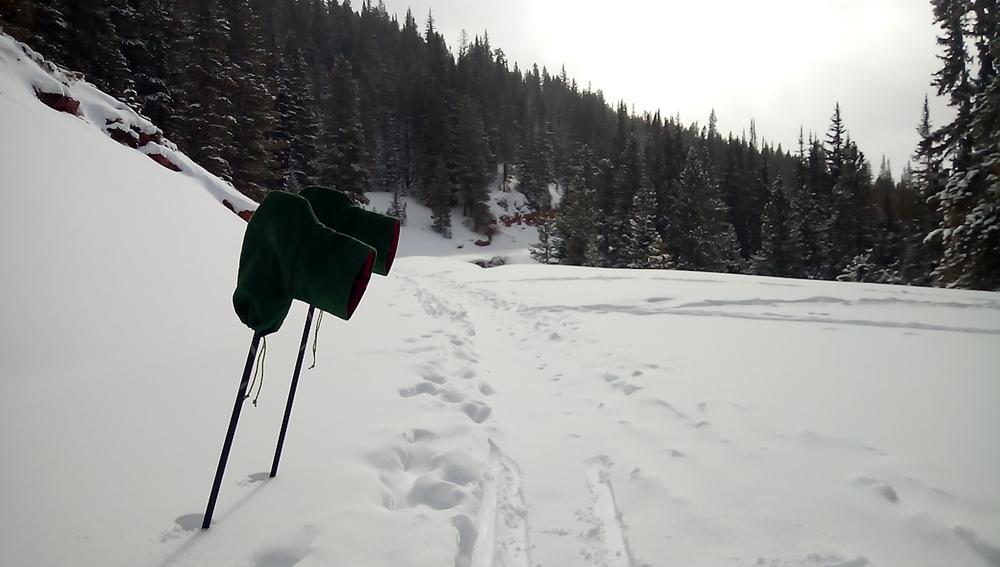 Driving back from skiing on the Boreas Pass I realized my face was covered in blood. I don't know when that happened but this kind of fun can be pretty brutal to the respiratory system. But in a somewhat good way ultimately. I hope. It's better than smoking. That's the house we stayed in. Damn nice, but then again, I particularly like living in a forest and in a snowy climate.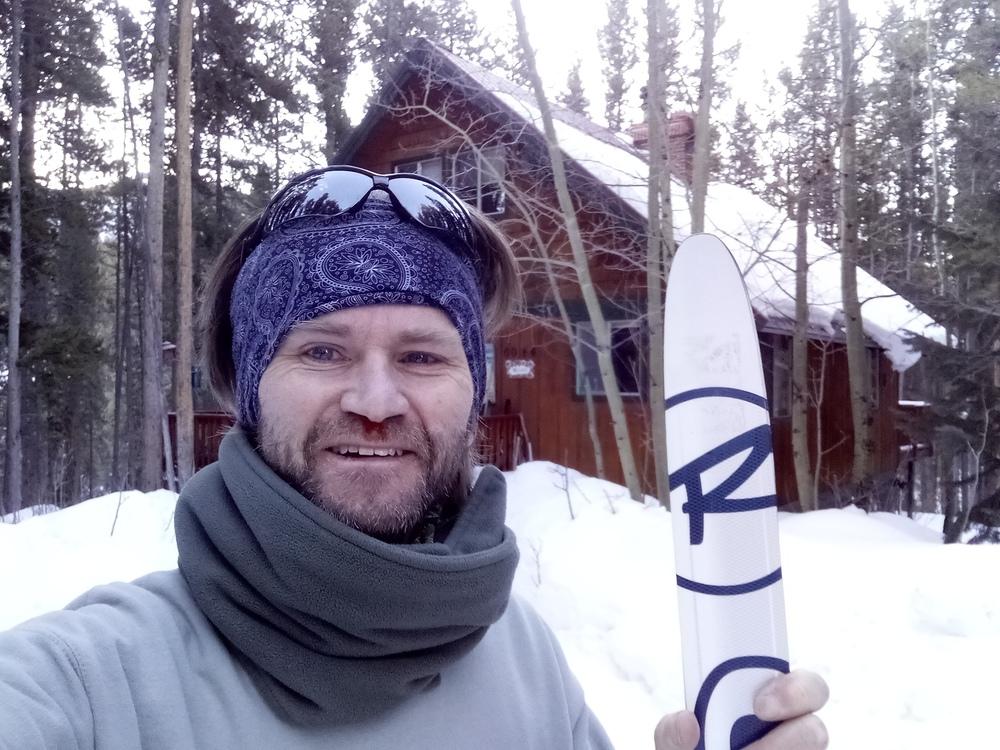 If you like these photos but wish there were more looking down at my feet, uh highlighting my skis, then you might like this video I made to remind myself of skiing on groomed trails. Hey, it's not easy doing this sport and filming oneself doing it; this was my first attempt and I quickly gave up!
As you can see, I look pretty delighted in all of these photos. If I don't, recalibrate now, because in every one of these photos, I was pretty delighted. Besides being a great opportunity to do something I love in a setting I love, another objective I had for this trip was to see how I felt at high altitude. I had reported that my Covid symptoms dragged on into a year where some days — not all — I would feel like I was at 3000m. Well, now I actually was! And I was ok. And then XC skiing, especially skate skiing and heavy climbing, is notoriously high-wattage. I was really pleased with how my body handled it. I was in pretty great shape when I left and I came back much better. I'm really starting to feel like I have my proper energy levels back and I think pushing my cardio-vascular and respiratory systems to the limit was beneficial. I certainly hope so, because even if it wasn't, I'd do it again!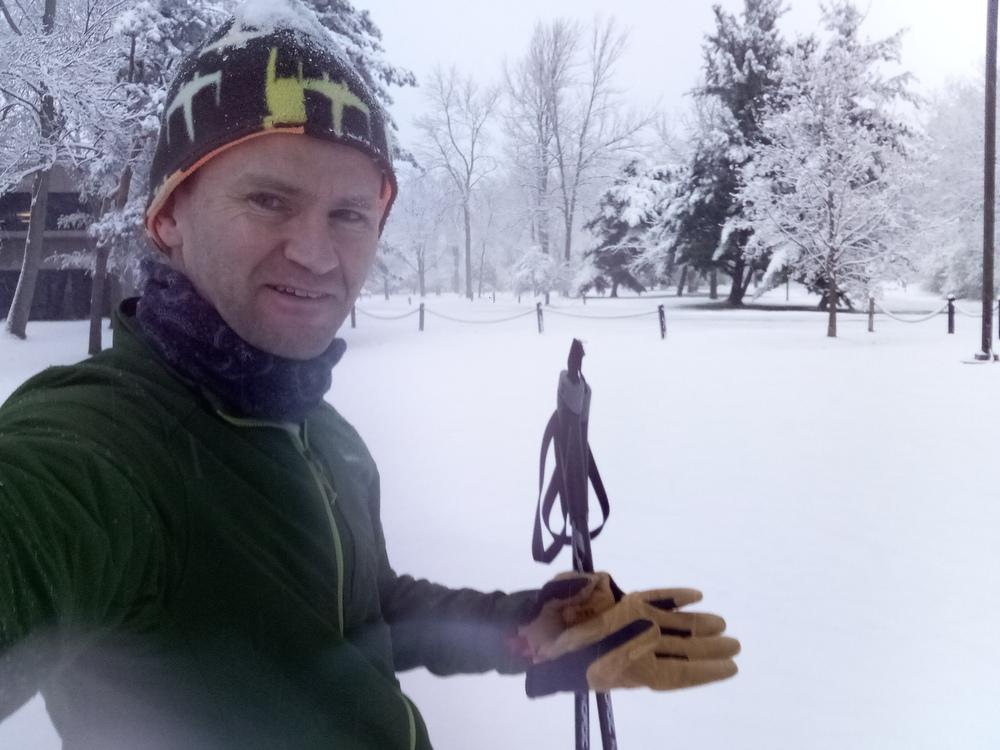 Enough snow to ski a bit. Yay!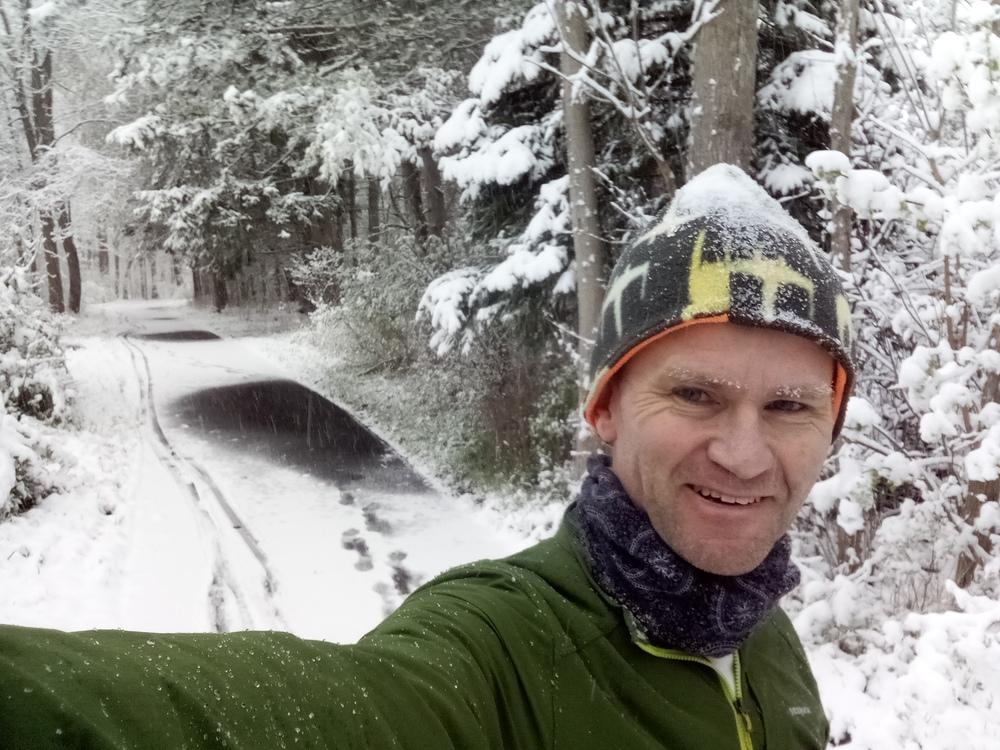 But only barely! I wrote a full post about it and other stuff.