Being extremely busy caused my summer report to be a season late. As the solstice draws near I am slowly getting caught up and it is the right time to review autumn's adventures.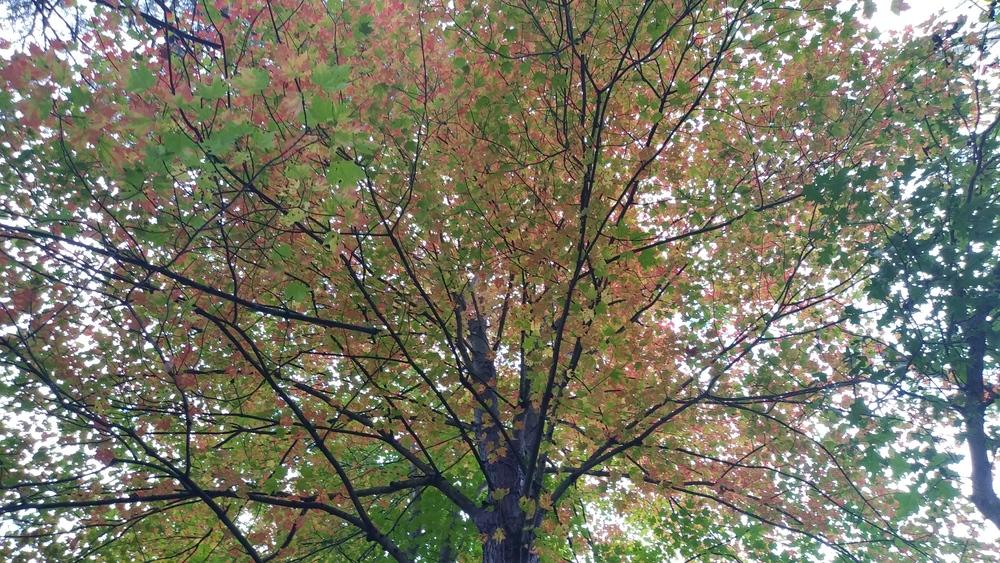 I basically spent all summer moving. Shutting down my lab at the San Diego Supercomputer Center was a huge operation as I did my best to help my patrons there face a post-me eventuality. I had a decade of industrial sized computer cruft piling up that had to be tidied. Then there was packing which sounds a lot simpler than it was. I'm not too materialistic, I don't really own much furniture, and I got rid of about 20% of my stuff, itself a huge operation. But I do own a lot of tools. Heavy iron tools. The logistics of how to get this stuff across the continent was a serious project.
The trickiest problem however, was the homelessness. This was an extremely difficult problem. It was a long and stressful ordeal but the homelessness problem is thankfully now cured. However for people moving to a new city, this sucks and I still don't have a good answer for how best to do it. I'm just thankful we weren't trying to move the other way! We started out staying at AirBnB rentals. This is ok if you can book in advance, but that can be difficult because the more spontaneous you'd like to be with such a plan, the fewer contiguous days you'll get. The longer your need for such accommodation drags on, the more complex this becomes. Towards the end of our homeless time in Buffalo, we were moving every few days. That is not as tiring as it sounds — it is way, way more tiring than it sounds. The reason is that we weren't just vacationing (which is exhausting). We were dealing with tons of day-to-day stuff that needs a home. What do you do with a car packed full of very valuable possessions between check out of one place and check in at another? I eventually rented not one, but two storage units and shifting stuff around became a huge issue. Setting up a decent computer so that I could properly work became impossible and let's not think about the internet access. Not wearing the right clothes as it got colder and never quite eating the right food really started to take a toll. This was a very hard autumn that was mostly defined by the quest to actually live somewhere (somewhere which wasn't terrible and where we wouldn't be stuck for a year).
The moving company I used cleverly compressed all my stuff into palletized freight and it apparently weighed over 4000 pounds. Here I am finally able to load each of those pounds from the storage unit into a truck and bring it "home".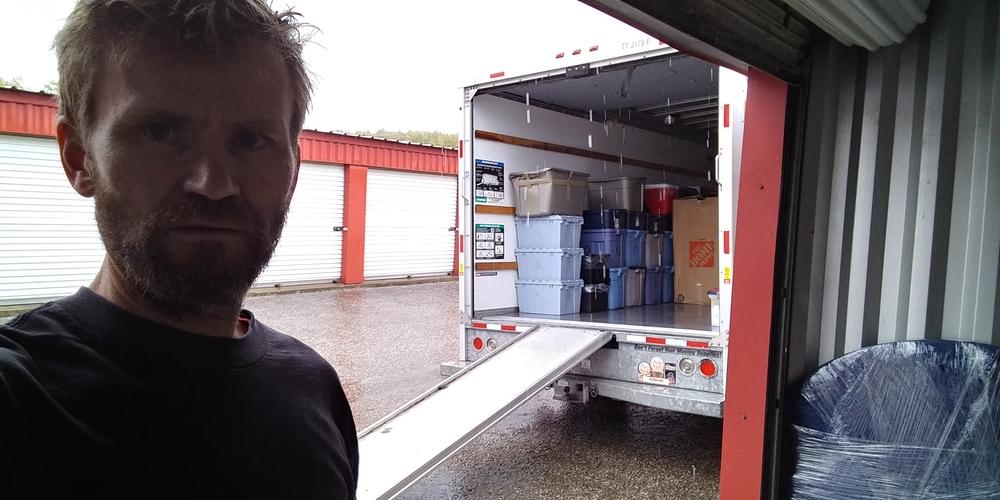 Although it was pouring rain the whole time, the weather here can have a sense of humor. Right when the truck was loaded, the sun came out.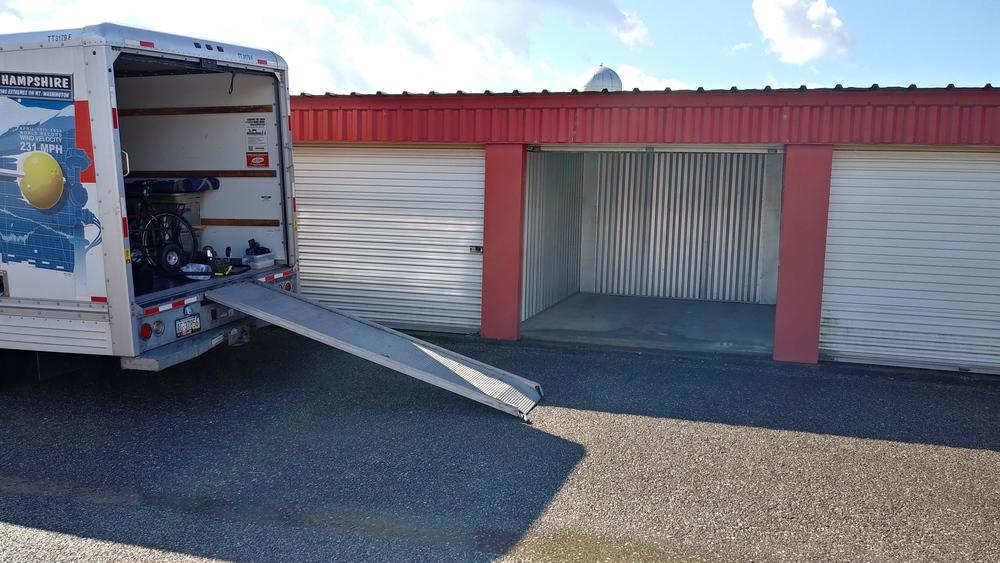 You can see my brand new hand truck there; the movers bought it for me after accidentally stealing mine in an understandable mistake. Overcoming an endless procession of such hurdles typifies the process. I was without my belongings for three months. If you ever want to get that feeling of being a kid at Christmas, just pack everything you own up and put it in a storage unit for several months. The stress and frustration of living without basic provisions will make reclaiming them a joyous occasion.
I'll probably have more to say about buying a house in New York, but for now, let's just say that it was much harder and more stressful than I thought it should be for people with immaculate financial discipline. It certainly took a lot longer than I thought it would. While we struggled to make the most out of the challenge of not having a place to live, the world did not sit still and wait.
As I mentioned, this region is heavily forested, and the autumn leaves in deciduous forests are one of the planet's most magnificent spectacles. Here is a small sample of that process taken in Ontario at the Niagara Escarpment, the long bluff over which Niagara Falls fall.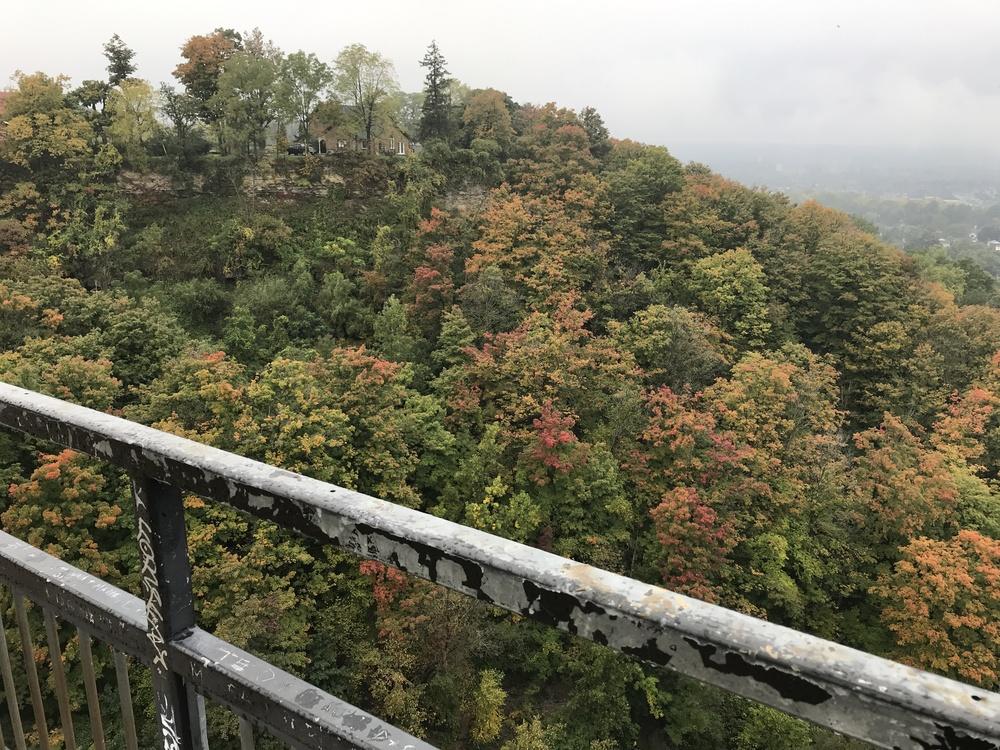 Photos don't really do it justice and I didn't get a lot of great photos of the colorful leaves. (Or Leafs as they spell it in Toronto.) Not only have I been super busy with the aforementioned moving but also my new job. One of the things I did for the latter is play with a drone. Here are some practice shots I took that show the beauty of the area as autumn sets in.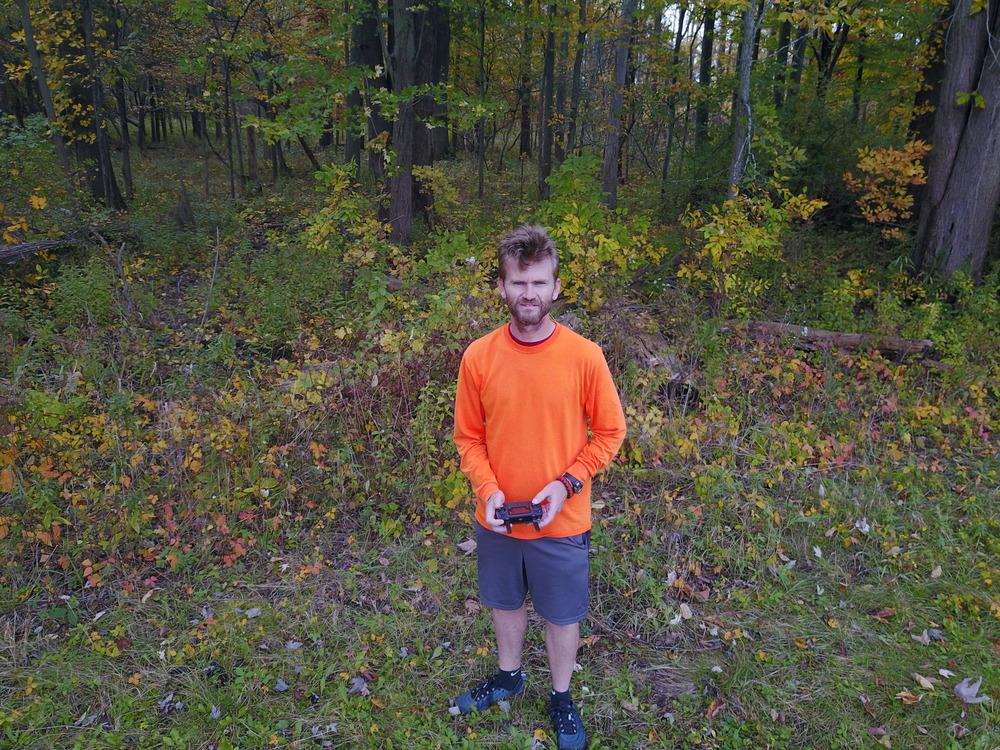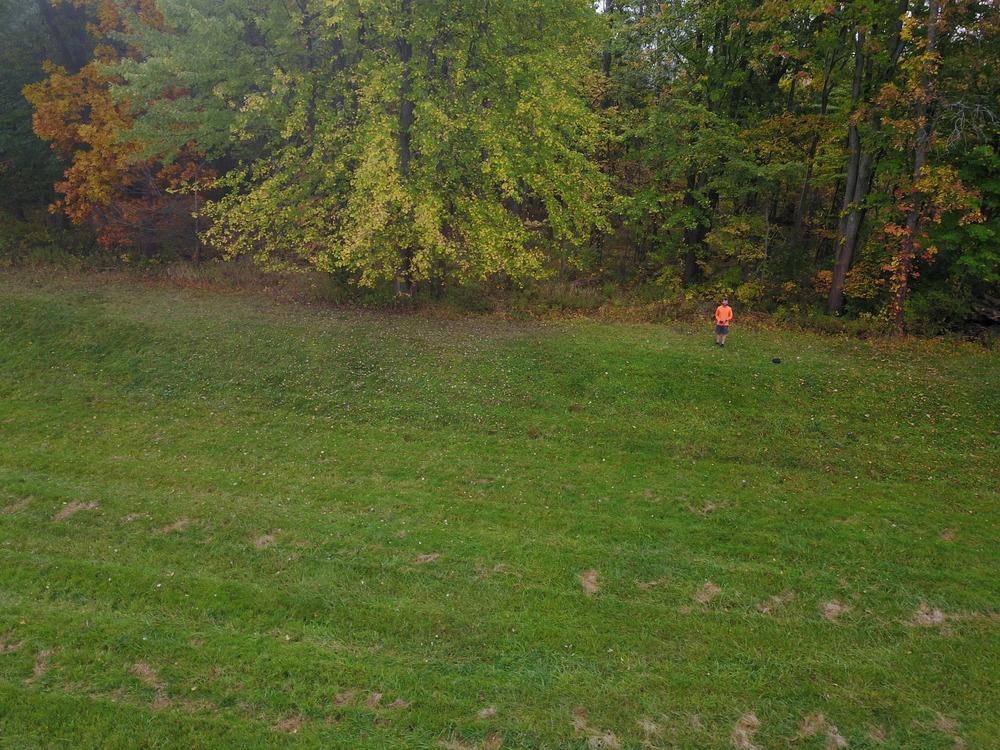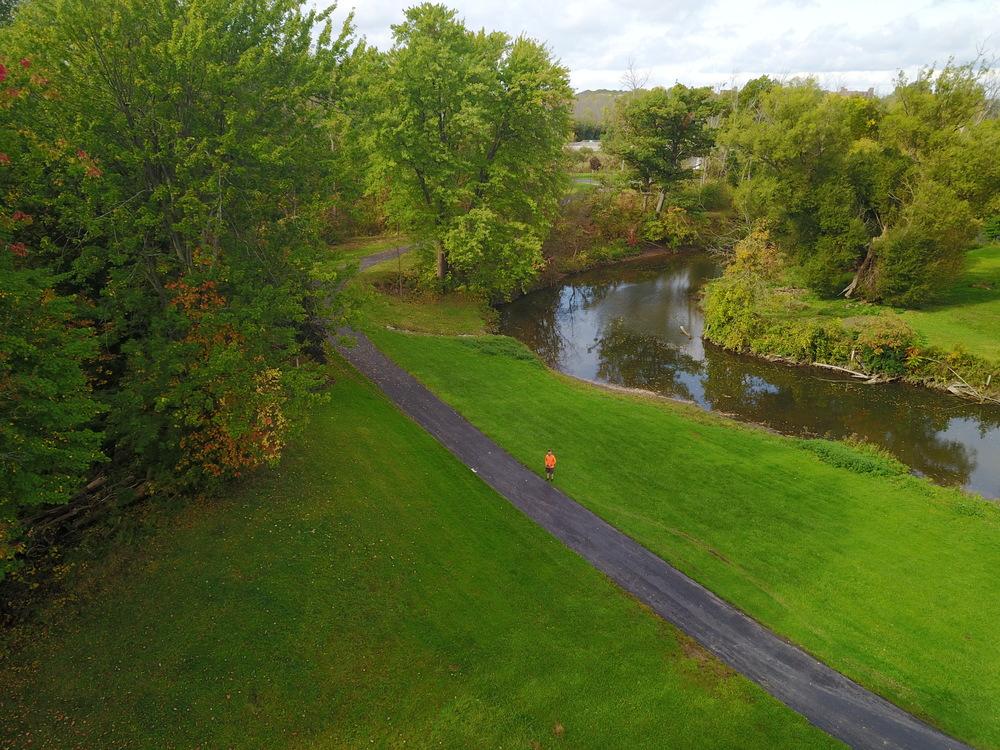 That extremely nice area is about a ten minute walk from my house. The whole area is basically a cold swampy forest which is a lot nicer than I just made it sound. It's super nice!
By the end of October, amateur recreational boaters were pretty much done for the season — but we professional recreational boaters were still at it.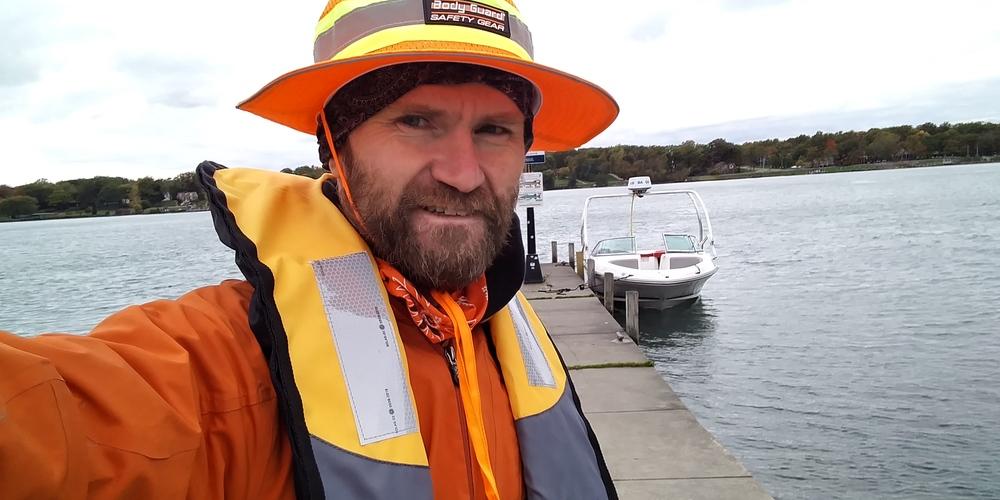 In fact, one thing my wife and I joke about is how much of Buffalo shuts down "out of season". We kept wanting to do touristy things (kayak rental, zoo stuff, outdoor seating at restaurants, etc) and we kept hearing "only open between Memorial Day and Labor Day". Or worse, like our neighborhood pool, "opens late June and closes at the end of August" unless it's "a cold, rainy day". Awww.
The leaves are falling and the "too hot" problem is rapidly curing itself. Autumn is happening and I'm super busy with a thousand things. Interject into that some big adventures with my job involving big ships. At the end of October, I volunteered to drive to the remote end of Quebec to visit a ship in Port-Cartier. This involves going so far north that I didn't need to wait for winter — I chased it down where it was already underway.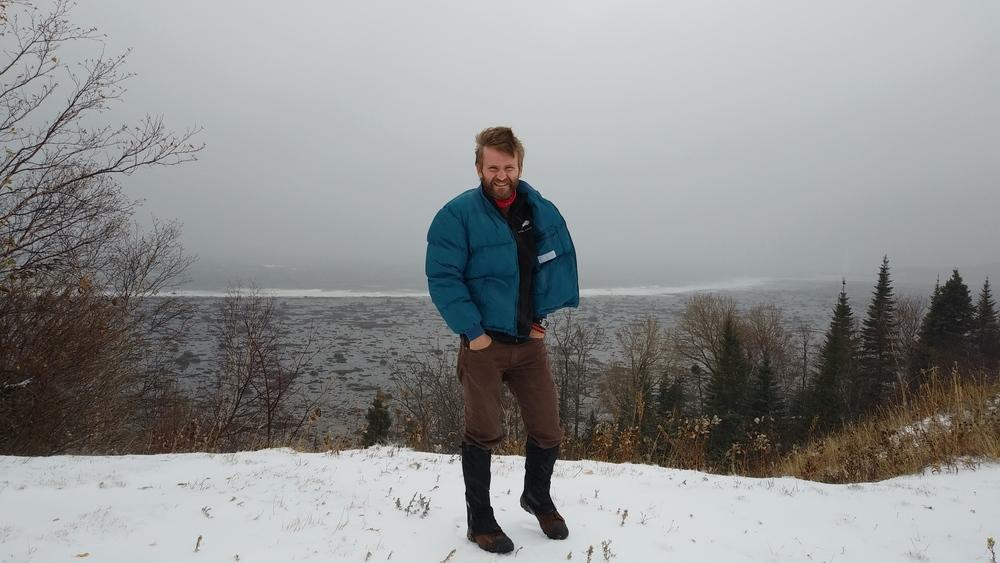 Here I am standing in front of the St. Lawrence River. That was a pretty brutal drive, about the same distance as driving from Buffalo to Florida. Unlike driving to Florida, I got to drive for the entire day in a blizzard. Fortunately the rented Canadian car (Ford Edge, made in Ontario) and I were up to the challenge.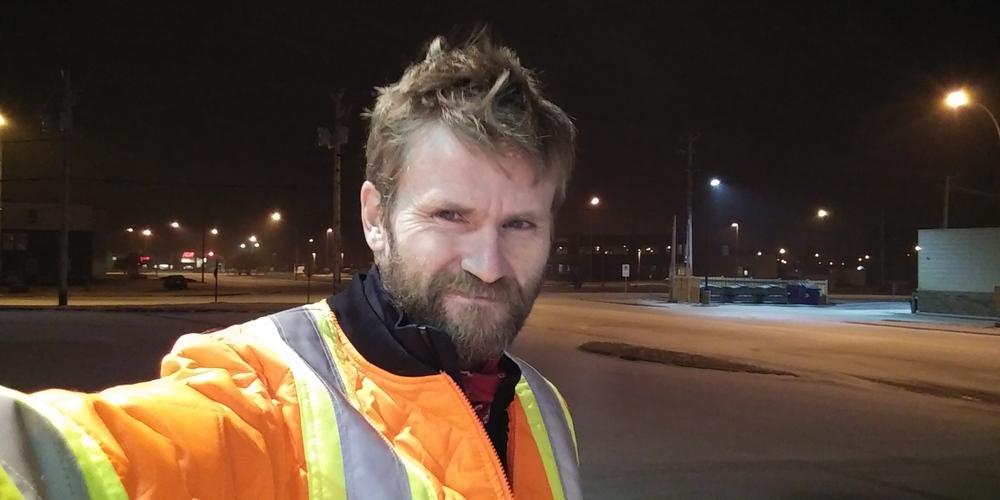 Here I am in Port-Cartier celebrating not sliding off the road over a cliff and into a fjord. The landscape here reminded me exactly of Norway and there is even the Saguenay Fjord National Park to let me know I'm not the only one who thought so. Spectacular natural beauty to be sure, but kind of stressful to drive so much on wilderness roads in a snow storm. The most common street sign was to warn of moose which thankfully did not become an issue.
If there's one thing that I can say about the people of Quebec, it is that ils n'aiment pas parler anglais. For that reason, my interactions with the locals were brief and slightly comical in the same way that hovercraft sometimes become full of eels.
I was supposed to board the ship while it was loading and do some extreme weather roboticist stuff. But ships aren't great at keeping rigid schedules and the Quebecois running the port were even less great at it. They sent the ship to sit at anchor to await loading. I went out with the ship for the day and it ultimately was delayed there idle for over three days. In the end, I had plenty of time to do everything I had come to do.
It was pretty nice really. Quite an experience. This far up the coast, the water is saltwater, the Atlantic Ocean. This is where foreign ships come to load up with grain and iron ore. There were four other ships killing time at anchor. Here's a shot taken on Halloween.
The scenery was fantastic. I got to see fin whales. I don't know if I would be up for a 200 day tour, but I'd definitely rather ride along on that kind of commercial ship than a normal vacation cruise ship.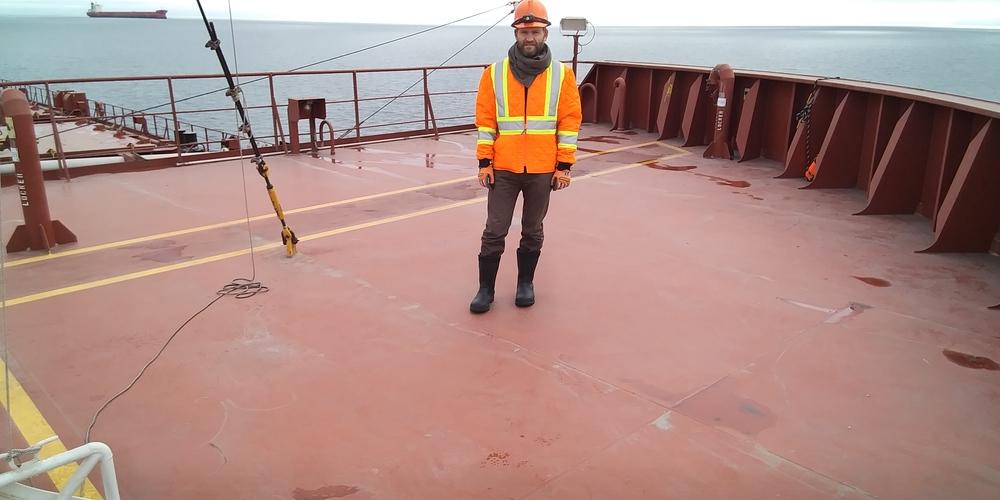 After completing that adventure, I drove the 20 hours back in a straight shot. (It seems I'm good at that sort of thing.) Although it rained a lot and I hit Toronto at the wrong time, without a blizzard the return trip was much less of a challenge.
Back home, autumn was well underway. This was taken at the edge of my neighbor's yard on the bike trail that connects my back yard to our very nice nature park.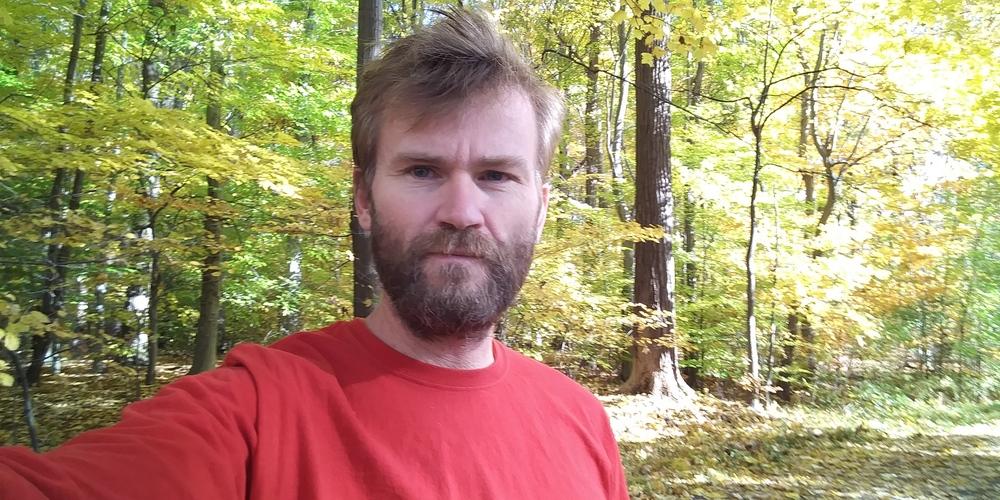 The house we bought is so-so (and fixable) like any 1970s house, but the location is magnificent. As I write this, my view is pretty much as shown here.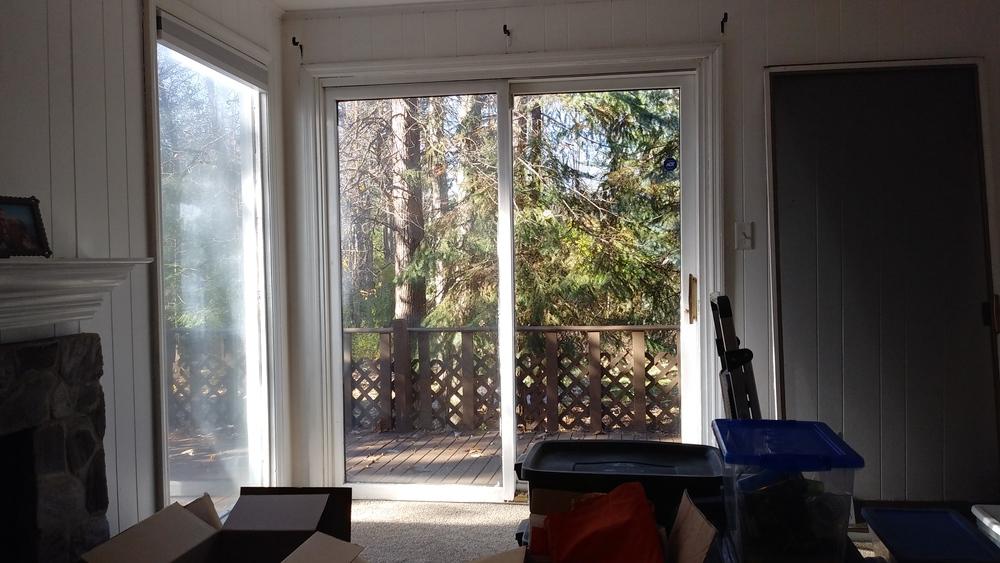 We have not even come close to taking these trees for granted yet. We appreciate and marvel at them every day.
My wife and I were scrambling to prepare the house for winter and some winter previews came to town. A few days of raging winds pretty much cleared the trees. Then we had pretty much a solid dumping of snow every week, usually when I needed to be somewhere! I was pretty delighted when some people (Nordic) skied on the path behind my house. There has been quite a lot of snow.
On Thanksgiving we were thankful to have the opportunity to avoid Thanksgiving completely. We went to Canada where it wasn't even happening. It was definitely a great day to do touristy things at Niagara Falls. Niagara Falls, NY is quite a sad run down place. I saw a boarded up KFC there and that's pretty bad. It's puzzling how it could be so awful because Niagara Falls, Ontario is quite nice. Certainly clean, functional, and inviting to tourists.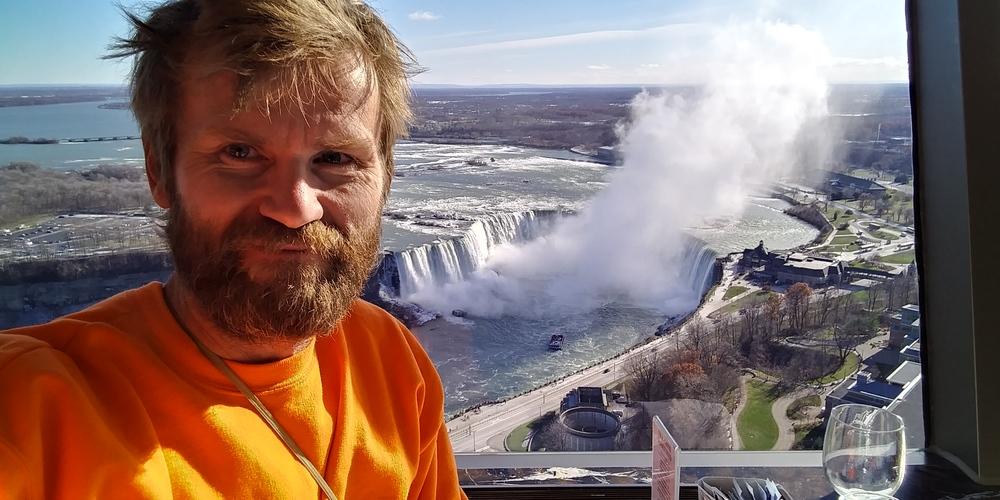 There is a bridge between downtown Buffalo and Fort Erie, Canada that lights up with different colored lights — that is not the Rainbow Bridge (it's the Peace Bridge). This is the Rainbow Bridge (on the left, by the rainbow). Hopefully this image will help me stop confusing the two.

What can be said about Niagara Falls? It is awesome in the original sense of the word. If you haven't seen it, you should. I enjoy seeing it in its seasonal variations.
At the end of November I got to spend another day on my favorite ship as it transited the Welland Canal. Here is a nice photo which not only explains exactly what the Welland Canal is all about, but shows how much fun it is to drive to Canada in a snowstorm to go spend the day on the forecastle of a giant ship.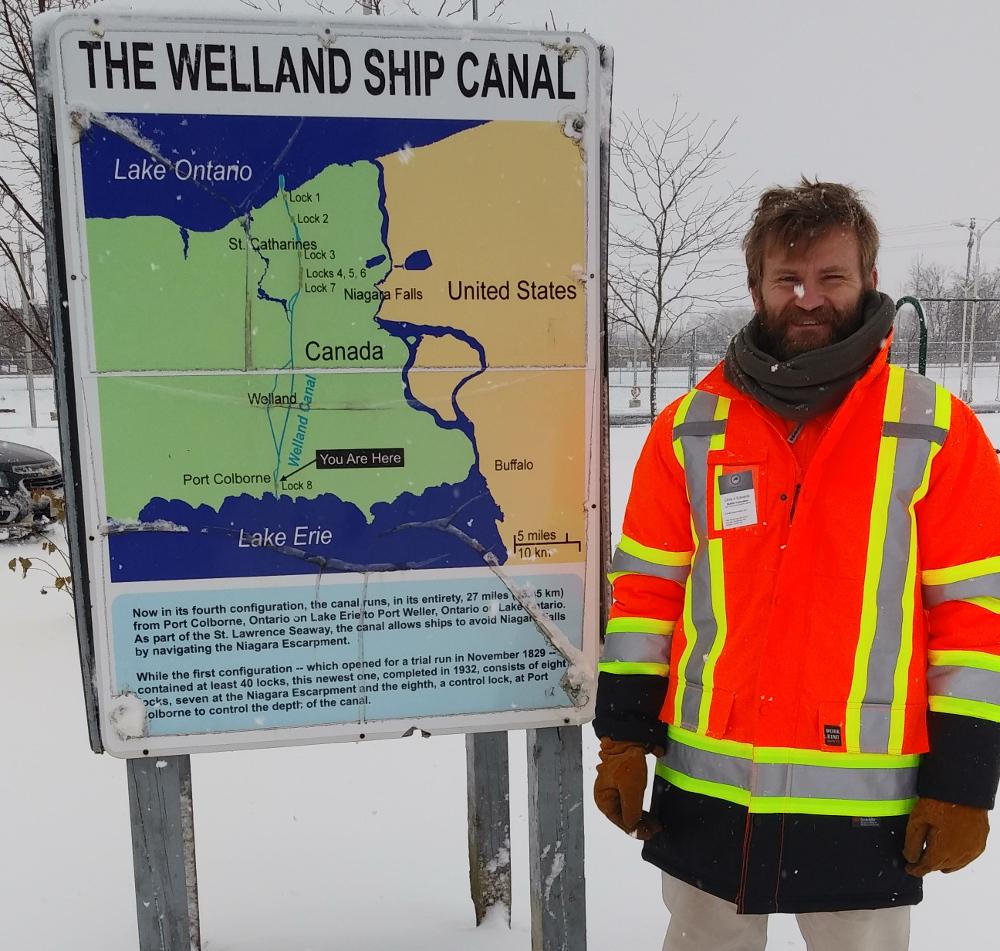 It's actually pretty fun! The only non-fun part was when some Canadians lost control of their car in front of us, spun out and kicked up a wall of snow that dumped on our windshield blinding us. My colleague was driving and I was thinking, we will be super lucky if we miss hitting them. We were super lucky. Once on the ship, we had a very interesting and productive day. Quite pleasant.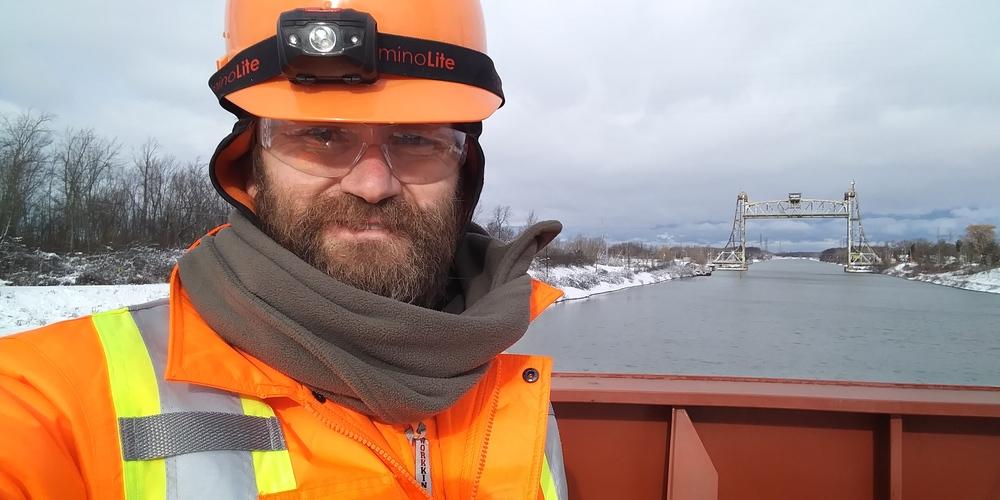 It was tricky making a such a complex transition from hot desert life to cold winter life. I've been worrying about the house, my stuff, my clothes, my car, my tires, my snow tools, etc., but I'm finally getting on top of it. The winter preludes we've had so far have shown me that I am still quite good at dealing with winter.
This is good since it's beginning to look a lot like… Christmas? No. Like some freakish place that actually gets snow in December! I've seen a lot of different lists ranking cities by how snowy they are — this one seems typical and shows Buffalo topped only by its near neighbors in Erie, Rochester, and Syracuse, but implausibly beating Anchorage. I don't know if that's accurate but I think it's reasonable to conclude that winter in Buffalo, NY involves a prodigious amount of snow.
Here's a look at our forest a few days ago.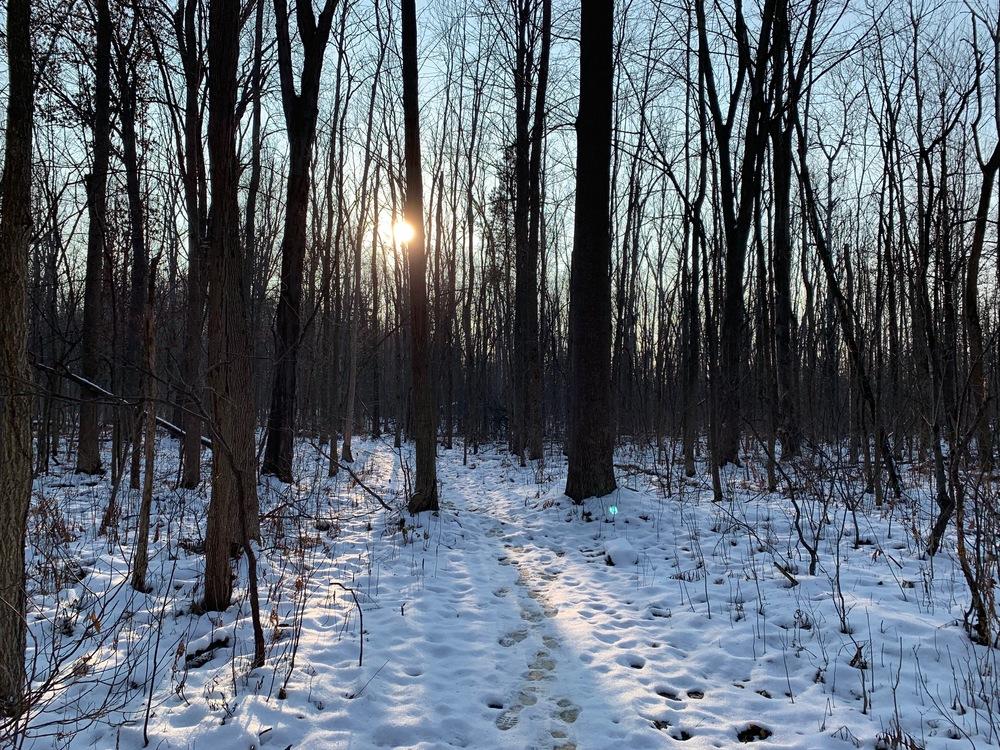 It's been a scramble to get ready for it, but ready I am. Winter is coming! Bring it on!